WELCOME ADDRESS
Dear colleagues, and friends,
As President of the Congress, and on behalf of the International and Local Organizing Committee, it is my great honor to welcome you to the Congress of the International Society of Blood Purification, which will be taking place in Ho Chi Minh City, Viet Nam on December 1st and 2nd, 2023.
The Scientific committee of the Congress, and the invited speakers coming from the US, Japan, Europe, Canada,…are all well- known experts on nephrology, and dialysis therapies. During the Congress, the issues will be discussed through a state of the art in Nephrology and Dialysis as well as various topics, and updated knowledges, which are very indispensable for daily clinical practice, and patients' care.
I think and I am sure that this event will be of an exceptional occasion for all to update our knowledge as well as to share our experiences with other colleagues.
The host Ho Chi Minh City, a riverside City, a hub of finance, economy, technology of the country, will provide rich cultural places, historic tradition, mixture of old, and modern architecture, which are the must-to-see sites you should visit. Great traditional and unique food with many well-known street food such as "Phở" (beef /chicken noodle), "Bánh mì" (a variety of sandwiches made with barbecue, chicken, pork, fish, vegetable, pepper, chili…), , "Gỏi cuốn" (rice paper roll with shrimp, pork, vegetable inside), "Bánh xèo" (Vietnamese Crepe made with green been sprout, onion, pork, shrimp), "Cà phê Trứng" (egg-mixed coffee), "Chuối nếp nướng" (grilled sticky-rice –wrapped banana) and many other worldwide recognized food, as well as authentic Vietnamese restaurants I cannot mention all are the must-to- taste things you should experience. Still more, you do not miss any kinds of other country food as good restaurants of Japanese, Korean, Thai, Chinese, French, Italian, Indian… dishes, wines, liquor are all available in our City!
The hospitality of the people, the beautiful landscapes, the dynamism, the vivacity, the "sleeplessness", and the very agreeable climate in December of our City are the other reasons for each visitor to have unforgettable stay in Ho Chi Minh City.
I hope to welcome you in Ho Chi Minh in December, 2023 to attend the Congress, and at the same time, to enjoy a very pleasant happy stay in Ho Chi Minh City full of attractions.
Faithfully,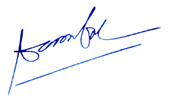 President of the Congress/President of HSDT