Seki Balogun, MD, FACP, AGSF, CMD, Donald W. Reynolds Professor of Medicine is a board-certified geriatrician and palliative care physician. She currently serves as the Vice Chair of Education for the Section of Geriatric Medicine and is also the Director of the Geriatric Medicine Fellowship program at the University of Oklahoma Health Sciences Center, Oklahoma, USA. She has several decades of experience as a distinguished clinician educator, training and developing programs for learners at undergraduate and graduate medical education levels. She is the recipient of several awards including Castle Connolly Medical Ltd. Regional Top Doctors and U.S. News and World Report Top Doctors awards for several years. She is a fellow of the American College of Physicians and American Geriatrics Society. Dr. Balogun has received several grants for the development of geriatric education programs. In her clinical role, she has served as medical director at several long-term care facilities for two decades and is a certified medical director. Her clinical research focuses on chronic kidney disease in the geriatric population and exploring clinical factors that can affect quality of life. She has authored many publications, including her most recent book, Care of the Older African Adult.
Postgraduate Education and Training
2002 – 2003      Fellow, Section of Geriatric Medicine, Department of Medicine, University of Virginia, Charlottesville, VA.
2000 – 2001      Resident, Primary Care – Internal Medicine, Department of Medicine, University of Connecticut, Farmington, CT.
1998 – 2000      Resident, Department of Medicine, Columbia University College of Physicians and Surgeons at Harlem Hospital Center, New York, NY.
1997 – 1998      Extern, University of Connecticut Health Center and Saint Francis Hospital and Medical Center, Hartford, CT.
1996 – 1997      Resident, Department of Radiology, University of Lagos Teaching Hospital, Lagos, Nigeria.
1992 – 1993      Intern, University College Hospital, Ibadan, Nigeria.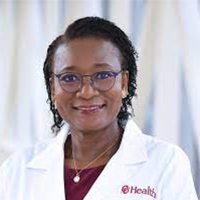 Seki A Balogun
MD, CMD, FACP, AGSF